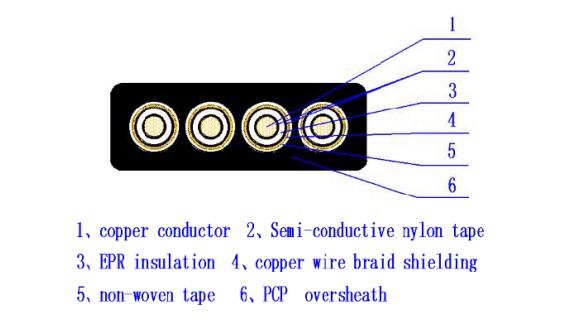 Flat Rubber Cable Application:
6KV YJGCFPB stacker reclaimer flat rubber cable are designed to provide high flexibility and have the capacity to withstand weather, oil/grease, mechanical and thermal stresses. YJGCFPB stacker reclaimer flat rubber cable spplications include handling equipment, reeling travels system, mobile power supplies, worksites, stage and audio visual equipment, port areas and dams. Flat rubber cable also for use in drainage and water treatment, cold environments and severe industrial environments.
6KV YJGCFPB Flat Rubber Cable Characteristics: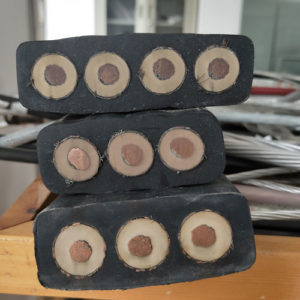 Voltage Rating 6kV
Test Voltage 21kV/5min.
Temperature Rating -15°C to +90°C Flame Retardant IEC 60332
High flexibility and impact resistance High Tension
Impact Resistance Abrasion Resistance Bending Resistance Flame Retardant Weather Resistance
Flat Rubber Cable Construction:
Conductor Class 5 flexible tinned copper conductor to IEC 60228
Insulation EPR (Ethylene Propylene Rubber) Type EI4
Shield Tinned copper wire braiding
Sheath PCP (Polychloroprene) Type EM2
4 Core Flat Rubber Cable Specifications:
Size
Unit
4*35+4*16/4 mm2
Conductor
-
-
-Material
-
Flexible Tinned Copper Wire
 GB/T3956-2008 class 5
-Structure
mm
0.4
-Diameter
mm
8.7
Semi-conductive layer
-
Semi-conductive nylon tape 0.20mm
Insulation
-
-
-Material
-
EPR
-Insulated colors
-
White
-Nominal thickness
mm
3.5
Semi-conductive layer
-
Semi-conductive nylon tape 0.20mm
Shield
-
Separately 4 cores metallic shielding, total in 16mm2
Tinned copper wire braiding 0.15mm wire Density min. 80%
Wrapping tape
-
Non-woven fabrics tape 0.23mm*2 layers
Cores distance
-
2.0mm *3pcs
Outer Sheath
-
-
-Material
-
PCP
-Sheath Color
-
Black
-Nominal thickness
mm
5
Completed cable
-
-
-Approximate overall diameter
mm
83*26 ±1
-Approximate weight of completed cable
kg/km
4800
Electrical Characteristics
-
-
-Max. D.C resistance at 20°C
Ω/Km
0.565
Flat Rubber Cable Why Choose Us?
Huadong Cable Group is a reliable 6KV YJGCFPB Stacker Reclaimer Flat Rubber Cable manufacturer with almost 30 years of experience. In order to provide high quality products, we produces 4 core flat rubber cable with superior copper material and insulation material. Every production process has been strictly checked by our professional technical engineers.
Email: huadongrubbercable@163.com

Package & Delivery: We package YJGCFPB Stacker Reclaimer Flat Rubber Cable with iron or wooden drum, and we can also package it according to your requirement. If you want to get the best YJGCFPB Stacker Reclaimer Flat Rubber Cable with reasonable price, feel free to leave your message. We will send our competitive Flat Rubber Cable price to you in 12 hours.


Customer Case:Our Flat Rubber Cable have been exported to more than 30 countries, such as: Russian, America, Yemen, South America, North America, Middle East, Africa, Asia,Oceania countries and etc.

Please feel free to leave your requirement. We will reply you within 12 hours.