1 AWG WELDING CABLE DETAILS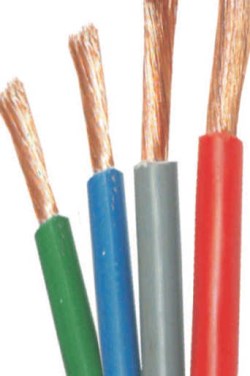 Conductor Material: Bare Copper
Conductor Strand: 778/30
Insulation Material: Ethylene Propylene Diene Monomer Rubber (EPDM)
Voltage: 600v
Min. Temperature Rating: -50°C
Max. Temperature Rating: 105°C
Colour: Black, Red, Orange or according to your requirements
Features: Superior flexibility,Good Color Retention,Resistant to:Tears, Abrasion, Water, Oil, Grease and Flame.
Custom Service: Huadong can customize welding cable according to your requirements. Please leave your inquiry cable list and order quantity, our sales team will send our offer documents within 12 hours. Email: huadongrubbercable@163.com
High quality 1 awg welding cable with reasonable price
1 awg welding cable is one of the specification of welding cable in accordance with American Wire Gauge (AWG) standard. What is the structure of 1 gauge welding wire? How about the characteristics of the cable? Being one of the leading 1 awg welding cable manufacturers, Huadong Cable Group will introduce the excellent cable to you.

Generally speaking, the conductor of 1 gauge welding cable consists of stranded bundles of copper wire or aluminum wire. On the one hand, which can gives the cable more flexibility. On the other hand, the fine copper or aluminum wire have greater conductivity compared to solid core wire. Being a professional supplier, we also have 2 awg welding cable for sale. As for outside insulation, we choose EPDM or Neoprene rubber. It adds additional protection for the cable and help 1 awg welding wire against the harsh environments. What's more, these insulated jackets are more flexible than PVC or other rubber coatings. If you are going to buy 1 gauge welding cable for your projects, just contact us.Email: huadongrubbercable@163.com

As a direct 1 gauge welding cable manufacturer, Huadong can promise to supply high quality products. When you choose us, you can get 1 awg welding cable factory price. Please send the quantity you need, we will provide the best 1 gauge welding cable quotation for you as soon as possible.
What is the application of 1 awg welding cable?
You know there is a large demand for 1 gauge welding cable every year. Our customers choose the superior cable for different application. The robust construction makes 1 awg welding cable resistance to both cold and heat as well as to flame. It is suitable for open space, dry and wet environment. So you can choose to use 1 gauge welding wire in automobile industries, ship building, railway and construction fields. In addition, you can buy 1 awg welding cable for steel plants, oil fields, coal mines and other industries with complex production conditions. Email: huadongrubbercable@163.com

All of customers wants to find professional welding cable suppliers. Maybe Huadong is your best choice. As one of the biggest 1 gauge welding cable manufacturers from China, Huadong supplies large quantity products for customers. From 1 awg welding cable price list, you may find that Huadong Cable Group has great advantage. Come to Huadong, you can get low price 1 gauge welding cable. If your order is large, we will give you discount 1 awg welding cable. In addition to welding cable, we also have silicone rubber cable for sale. If you are interested, please contact us.
How to install 1 awg welding wire correctly?
In order to ensure the smooth completion of your projects, You not only need to buy high-quality products, but also to install them correctly. Both of them are key factors. So you need to pay attention to the following items in the process of 1 gauge welding cable installation. Email:huadongrubbercable@163.com
Before you use 1 gauge welding wire, you should check the cable external insulation package. And make sure that the cable cores of middle part and joint part are not exposed in the air. If you don't notice these small details, it will fail in future. What's more, the tightness and insulation requirements of 1 gauge welding cable connection part must reach the highest level. Because it is similar to h07rn-f 3g6 cable. Both of them need to work in oil resistance environment. Even if the insulation of 1 awg welding cable has superior waterproof property, you should protect the inside stranded copper or aluminum wire. So we would like to remind you to pay attention to these matters before installation. If you have other questions, feel free to leave your message. We will try our best to help you. Email: huadongrubbercable@163.com

Why Choose Us?
Huadong Cable Group is a reliable 1 gauge welding cable manufacturer with almost 30 years of experience. In order to provide high quality products, we produces 1 awg welding cable with superior copper material and insulation material. Every production process has been strictly checked by our professional technical engineers.
Email: huadongrubbercable@163.com

Package & Delivery: We package 1 awg welding cable with iron or wooden drum, and we can also package it according to your requirement. If you want to get the best 1 awg welding cable with reasonable price, feel free to leave your message. We will send our competitive 1 awg welding cable price to you in 12 hours.


Customer Case:Our cable products have been exported to more than 30 countries, such as: Russian, America, Yemen, South America, North America, Middle East, Africa, Asia,Oceania countries and etc.

Please feel free to leave your requirement. We will reply you within 12 hours.