16mm/35mm/50mm welding cable at factory for sale
Custom Service: Huadong Cable Group can customize welding cable and rubber cable according to your requirements. Please leave your inquiry cable specification and order quantity, our sales team will provide the best price for you as soon as possible. Email:huadongrubbercable@163.com
PRODUCTS DETAILS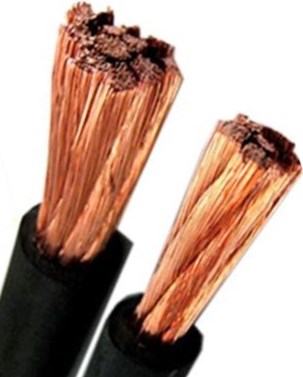 Conductor: Bare Copper Wire or Tinner Copper wire
Core: Single Core
Insulation: PVC/Natural Rubber/EPR
Section Area: 10mm/16mm/35mm/50mm and so on
Packaging: Iron or Wooden Drum
Colour: Black, Red, Orange or according to your requirements
Property: Ozone, Sunlight, Weather, Oil and Chemical Resistant
Application: Used for welding Generators & switchboard applications. Superior better resistance in heavy working conditions.
High quality and cheap 16mm welding cable for sale
Just like other welding cables, the 16mm welding cable is very flexible and durable. From 16mm2 welding cable samples and pictures, we can see that the conductor of the cable is bundles of wire. As a matter of fact, these are stranded bare annealed copper wires or tinned copper wires. It is the fine wire strands that give 16mm2 welding cable more flexibility and tensile strength. You know that the conductor materials are different, so 16mm welding cable prices are not the same. You can choose the suitable cable according to your requirements. Just leave your message,we will send the related 16mm welding cable price to you in 12 hours.Email: huadongrubbercable@163.com

Its outside is insulate jacket. We choose EPDM or Neoprene rubber as the insulation to provide additional protection against the harsh environments and frequent trailing and bending. In addition to 16mm2 welding cable, we also have other welding cable for sale. Among of them, 10 mm welding cable, welding cable 35mm2, 50mm welding cable, 95mm welding cable are very popular. What cable are you looking for? Just tell us the welding cable specific you need. If you are also interested in our hot-sale 50mm welding cable, please leave your message. We believe our 50mm welding cable price and quality will not let you down. Email: huadongrubbercable@163.com

You should notice when purchasing 50mm welding cable
When you are going to buy 50mm welding cable, you may find there are a lot of 50mm welding cable suppliers in the world market. Which one is the reliable 50mm welding cable supplier ? How to choose high quality 50mm welding cable ?Now, Huadong Cable Group will give you some purchase tips.Email: huadongrubbercable@163.com

Even if there are a lot of 50mm welding cable suppliers, it is not easy to find a real 50mm2 welding cable manufacturer. Some of them are just dealers. You need to spend some time in comparing the cable companies. That is very necessary. Huadong Cable Group is one of the biggest 50mm welding cable suppliers in China. we have been engaged in the manufacture and supply for 30 years. We promise to provide the superior products and service for every customer. No matter you buy 16mm welding cable, 35mm welding cable, 50mm welding cable or other products, Huadong is able to deliver them on time. So we have a good reputation in the cable market. Email: huadongrubbercable@163.com

What's more, you need to choose reasonable 50mm welding cable price. Just like when you buy 16mm welidng cable, you are supposed to compare the 16mm welidng cable prices provided by different suppliers. Only in this way, can you get the best 16mm welidng cable quotation. From the 50mm welding cable price list, you can get that Huadong has a great advantage. If you are interested in our cheap 50mm welding cable, feel free to send your inquiry.
Why Choose Us?
Product Process: Huadong uses the high quality material to produce welding cable. Every production process has been strictly checked by our professional technical engineers. Email: huadongrubbercable@163.com

Package & Delivery: Our welding wire package by iron or wooden drum or according to client's requirement.


Customer Case: We have exported wires and cables to more than 30 countries,such as: Russian, America, Yemen, South America, North America, Middle East, Africa, Asia,Oceania countries and etc. Email: huadongrubbercable@163.com


Please feel free to leave your requirement. We will reply you within 12 hours.