PRODUCTS FEATURE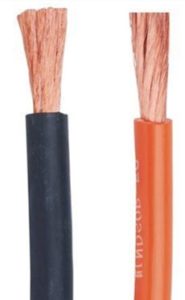 Conductor: Bare Copper Wire or Tinner Copper wire
Core: Single Core
Insulation: PVC/Natural Rubber/EPR
Section Area: 70mm2
Min. Temperature Rating: -50°C
Max. Temperature Rating: 105°C
Packaging: Iron, Wooden Drum or others
Colour: Black, Red, Orange or according to your requirements
Property: Ozone, sunlight, weather, oil and chemical resistant
Qualified 35mm welding cable from Huadong
Generally speaking, 35mm2 welding cable is a kind of durable and flexible wire. So it is very popular in many projects. As a matter of fact, 35mm2 flexible welding cable is made from stranded bundles of copper or aluminum wire. On the one hand, which allow welding cable 35mm for ease of movement. Email: huadongrubbercable@163.com
In addition, stranded 35 sq mm welding cable have a larger surface area than solid core wire. So rubber welding cable 35mm has greater conductivity. What's more, our 35mm x 1c flexible copper welding cable in black color is very famous all over the world. In fact, we also have 70mm welding cable for sale. So if you want to buy 35mm2 welding cable, please leave your message. Because can provide the best 35mm welding cable price for you.
How to produce welding cable 35mm2?
As a professional welding cable 35mm2 manufacturer, we always try our best to provide superior products. Huadong Cable Group produces the welding cable 35mm single core in strict accordance with international standards. So that our 35mm dc cable can meet your requirement. Therefore, when you want to get the welding cable 35mm price, just leave your message. Then we will contact you as soon as possible. Email: huadongrubbercable@163.com

As you can see, in Huadong 35mm welding cable factory,there are advanced equipment. What's more, we choose qualified copper and aluminum material to produce 35mm2 flexible welding cable. You know that we are the direct 35 sq mm welding cable supplier. Therefore, we can give you the factory 35mm welding cable price. So we believe our 35mm welding cable price and quality will not let you down.

Buy 35mm2 flexible welding cable with the best price
Over the past years, we have exported our 35 sq mm welding cable to many countries. Such as: Russian, America, Yemen, Malaysia, Philippines, England, Singapore, Yemen, South Africa and so on. So if you also need our 35mm dc cable, welcome to Huadong. In addition, When your order quantity is large, we can give discount welding cable 35mm2 price.

Please feel free to leave your requirement, We will reply you in 12 hours.